Throughout the course of history, the world has seen a lot of leaders – some inspirational, some depressing and some downright crazy. With a certain someone having recently been elected as one of the most powerful men in the world, after what can only  be described as a joke of a campaign, people have begun predicting the end of the world left and right.
So, we've dug up a list of leaders that the world has previously lived through – and survived, far from being unscathed, but definitely stronger. These people have been elected at  different points of time in history and allowed to lead entire nations, their sanity highly questionable, their decisions less than appealing.
Francois Duvalier (1907-1971) – the Voodoo Spirit of Death
Papa Doc claimed that he alone was responsible for John F. Kennedy's assassination by way of a Voodoo curse. 
Francois Duvalier was President for Life of Haiti until 1971. Duvalier claimed to be the Voodoo spirit of death and demanded that his temporary successor, Clement Barbot, be arrested. When he couldn't be found, Francois' people told him that they believed he had transformed into a large black dog.
Understandably, Papa Doc ordered the deaths of all black dogs.
Rafael Trujillo (1891-1961) – Dictator of the Dominican Republic
"El Jefe" held a campaign for his illiterate wife to receive the Nobel Prize in Literature, which would've made her the first woman in history to have achieved it, with having done nothing for it in actuality.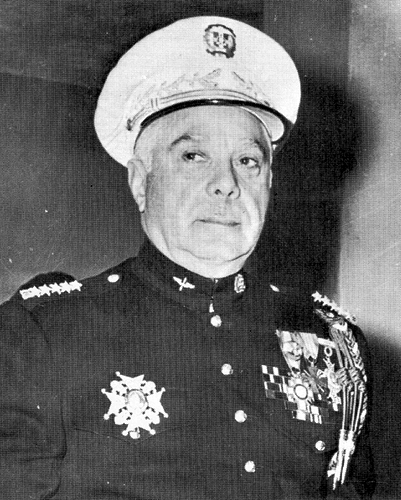 Trujillo appointed his 3-year-old son Ramfis as colonel, organized a $30 million event called the Fair of Peace and Fraternity of the Free World to crown his daughter queen – an event that lasted an entire year and used up one-third of the national budget and honoured his illiterate wife as a "writer and philosopher," at the same fair.
Muammar Gaddafi (1942-2011) – Dictator of Libya
One of Muammar Gaddafi's most popular decrees was that all his bodyguards had to be female virgins, no doubt to insulate himself against rape attacks.
Immediately after seizing power 1969, at the age of 27, he expelled all Italians from the country. Because, why not? While on a friendly visit to Italy in 2010, he gave a lecture exclusively to women (who were all paid to attend) in which he said that all of Europe should convert to Islam and that the European Union should pay him "at least 5 billion euros a year" to put a stop to illegal immigration from Libya.
Kim Jong-il — Dictator of North Korea
Kim referred to Coca-Cola as the "cesspool water of American capitalism" and told his people that he invented the hamburger.
He even built a hamburger factory, saying "I've made up my mind to feed quality bread and french fries to university students, professors and researchers even if we are in (economic) hardship." He is rumored to spend $350,000 a year on brandy and claims to have been born in a log cabin, his birth marked by the appearance of a double rainbow. Yes, this is HIS father.
The world has had its fair share of crazy leaders, but the people have gotten through it and they have shown us that it is not the end, that there is still hope for us.
---
by Rubana Murshed