A bored being's best friend is YouTube. But, with so many channels out there, it's hard to fish out the good ones, which will make you feel better about procrastinating, learn something productive, or just inspire and amaze you. Here are some YouTube Channels bound to go whoa.
5. 1MILLION Dance Studio
When you mix passion, fun and talent, you get '1Million Dance Studio'. They are a dance crew from South Korea, consisting of many famous choreographers, such as May J Lee, Lia Kim, Eunho Kim, etc.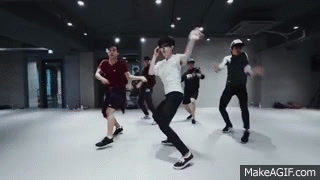 They not only produce the most stunning choreographs for their YouTube channel, but also has worked for top tier K-pop groups like 2NE1, Jay Park, Got7, Hyuna and much more. This bunch also does workshops which are view-able to all. Head over to their channel, and go 'Woah', for their energy, confidence and spirit, which might just end up motivating you to dance.
4. EpicFantasy
The king of DIY props, and a sorcerer when it comes to crafting, EpicFantasy will make you go 'Woah' with his useful and efficient, yet mesmerizing crafting techniques and tutorials. From building a Dragon bigger than your size, to a miniature helicopter, and to even both metal and cardboard swords, this man will show you how to do all. His versatility is no joke, head over to his channel and search up whatever that is you want to make, and you'll be surprised. Cosplaying has never been this easy.
3. Anastasiya Shpagina
She's a shocker – a real life Barbie/Anime girl, but with more talent than you can think of. Her makeup transformation tutorials – yes, transformation, not just your regular tutorials- will make you go 'Woah'. Get prepared to be awestruck as this regular looking girl with red hair, turn into a very convincing Jared Leto, Park Bom, Lana del Rey, Kim Kardashian, Dean Winchester and even an anime characters like Sasuke.
2. Peaceful Cuisine
Ever thought you could listen to peace? Peaceful Cuisine is a walk-through of preparing and making of food, but what makes you go 'Woah' is how there is no other noise present other than the sounds from the food and the utensils used to prepare it. Ryoya Takishima is a genius when it comes to the auditory aesthetics of making food – mixing and grinding, sizzling and simmering, you never thought it would sound so soothing. You will find tutorials on how to make Ice Cream, Samosas, Cookies, Green Tea Cake and many more.
Kurzgesagt
From dealing with mind-bending questions like how far into space can humanity theoretically reach to delving into fascinating discussions on quantum computers and black holes, this channel combines beautiful, minimal animations and easy, relatable explanations to rouse curiosity and wonder in your mind. A must-watch for children and adults alike, especially to understand yourself and the universe better.
---
by Shazmeen Haq